Frequently Asked Questions
We are obsessed with the perfect ride and love nothing more than talking about it, especially when it comes to Triumphs. Whether it's building your dream motorcycle to give you the best experience, learning about our decorated history, or wanting to know how a bike comes to life, here you'll be able to find answers to some of the most frequent questions we're asked at Triumph HQ:
When was Triumph formed?
Triumph originally formed as a bicycle manufacturing company by Siegfried Bettmann in Coventry, way back in 1887. But with the explosion of motorised transport, Triumph shifted focus and produced the first motorised cycle, the Triumph 1, in 1902. Triumph was reborn in 1990 at the Cologne Motorcycle Show with a new range of motorcycles, all of which were produced at the then newly built factory in Hinckley, Leicestershire.
Who owns Triumph today?
Triumph Motorcycles Limited, the company, is a 100% privately owned company. Our parent company is called Bloor Holdings Limited, which is owned by John Bloor. The spirit of Triumph, however, belongs to you, the rider.
Where are Triumph's factories based?
Triumph has six-world class factories around the world. Two of these factories are based in Hinckley in the UK, just a stone's throw from the Mallory Park race track. There are also three factories in Chonburi, Thailand, and one in Manaus, Brazil. Every Triumph motorcycle begins its life in Hinckley, where all of our design work, prototype construction and engineering takes place.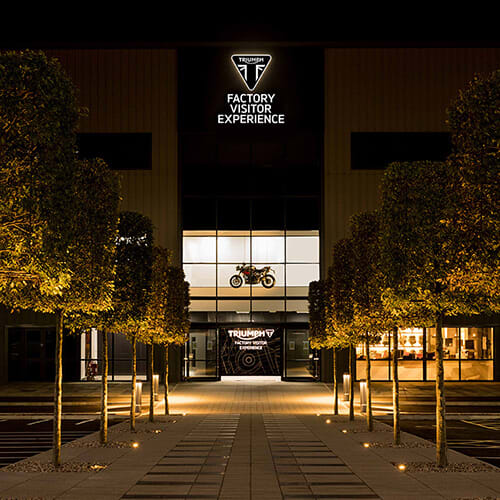 Can I visit the Triumph factory?
On 1 st November 2017 we opened the Triumph Factory Visitor Experience; a unique exhibition that brings together a priceless collection of motorcycle memorabilia as well as showcasing legendary iconic motorcycles from Triumph's long and impressive history. It's free to visit, but be sure to pre-book an optional guided Factory Tour, which is an unmissable chance to venture beyond the factory security doors and enjoy unparalleled behind-the- scenes access to the home of Triumph.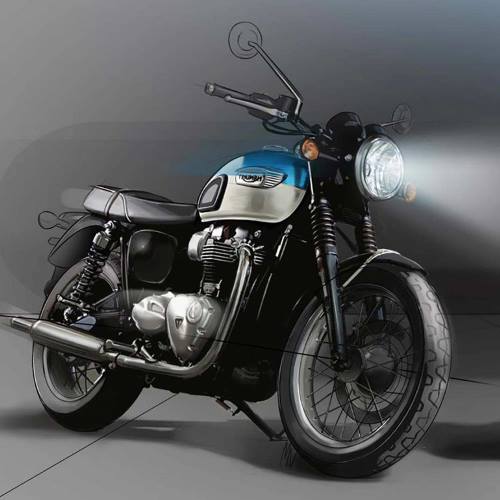 How long does it take to develop a new Triumph motorcycle?
The whole process can vary from model to model, but typically the design and development of a new Triumph takes around 3 years from concept to delivery.
Where can I buy a Triumph motorcycle from?
We currently have around 700 dealers in 35 countries, all of whom are committed to supporting riders across the world and ensuring as many people as possible get to feel the performance of our range of motorcycles. You can find your nearest dealer through our Find A Dealer page.
Where can I buy pre-owned Triumph motorcycles?
When you buy a bike that's pre-owned, you need to be confident of your purchase and that there are not going to be any surprises or problems further down the road. If you're looking for a pre-owned Triumph then our network of around 700 dealerships across the globe is the best place to start.
Every Triumph motorcycle available through our Approved Triumph Pre-Owned Motorcycle programme has to meet our exacting standards before being offered to you. Rest assured we have ticked every box first, so all that's left for you to do is enjoy the ride.
Find a pre-owned dealer here.
Where can I get parts and accessories to customise my Triumph?
We care about your riding experience as much as you do, and that's why we're the best people to provide genuine parts and accessories for your bike. Visit our parts and accessories page where you can find everything you could need to make your ride your own. All of our parts are rigorously tested, made to the Triumph standard, and can be sourced through any of our dealerships.
How long does my Triumph warranty last?
All new Triumph motorcycles are covered by a 24 month unlimited mileage warranty, commencing from the date of first registration or the date of sale if the motorcycle remains unregistered.
Within the warranty period, Triumph warrants your new motorcycle to be free from any defect in materials used in the manufacture, and/or workmanship at the time the motorcycle was made. You don't need to worry, just enjoy the ride.
For more general information about our warranty package please visit the Warranty page. You can also speak to your local dealer for information about other warranty options that are specifically available in your country of residence.