TRIUMPH'S NEW 250CC MOTOCROSS BIKE MAKES AN ENTRANCE AT LOS ANGELES COLISEUM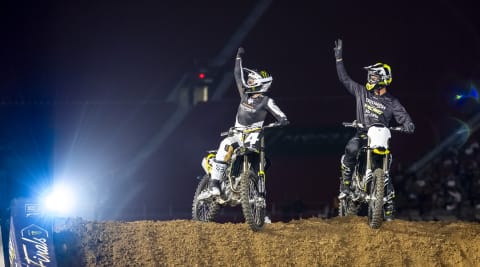 Triumph's new 250cc motocross bike was revealed in public for the first time, at the SuperMotocross World Championship Final on Saturday 23 September, at the Los Angeles Memorial Coliseum in California.
Spectators witnessed two new Triumph motocross bikes enter the arena to a blaze of pyrotechnics and fanfare.
The hotly anticipated new production-specification bike was ridden by Jeff 'Six Time' Stanton, who won his last Championship at the Coliseum and is the current manager of Triumph's Adventure Experience in the US. He was joined by the GOAT, Ricky Carmichael, whose bike featured his own graphics and non-standard specification components.
The date for the full reveal of the new bike was announced as 28 November 2023 on giant screens around the stadium.
To mark the moment, Triumph also launched its new Triumph Racing website and social channels. Follow the action @OfficialTriumphRacing on Instagram and Facebook.
Talking to his fellow commentators after his ride, Ricky Carmichael said: "I'm so happy to finally show the fans what we've been working on for the past 4 years. The bikes feels great, it looks great, and it's fast. I'm really pleased with what we've delivered and I can't wait until we can share the final details on November 28th."
Jeff Stanton added: "The Coliseum is a special place for me, and to be back here on the Triumph is an absolutely honour for me. The new graphics look like nothing else in the paddock and give the bike a really sharp and distinctive new look that I think the fans are going to love.