TRIUMPH AND AKRAPOVIČ ANNOUNCE LONG TERM COLLABORATION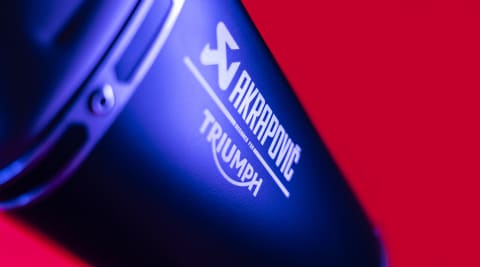 Triumph Motorcycles and Akrapovič have revealed plans to collaborate on a number of new exhaust systems in the adventure and roadster sectors, as well as working on special projects.
The collaboration began in the paddock, when Akrapovič supplied top Moto2TM teams with exhaust systems running with Triumph's 765 engines, including the world champions in 2021 and 2022.
Both Akrapovič and Triumph are known across the world for delivering high performance, premium quality, unmistakable sounds and innovative design.
Nick Bloor, CEO of Triumph Motorcycles said: "This collaboration is about offering our customers even more choice by extending our range of genuine Triumph accessories. Working with Akrapovič to develop new exhaust systems for our upcoming models, we can give riders the opportunity to enhance the response and feel of their new Triumph motorcycle, knowing that the two have been developed side by side.
Davorin Dobočnik, CEO of Akrapovič added: "As a company, we are delighted to be entering into this new collaboration with Triumph. We are honoured to cooperate with such an iconic brand with a huge heritage. As companies we share similar values, and our engineers are already working alongside those from Triumph to develop exhaust systems for Triumph models across many genres of motorcycles, including versions that will surprise many. This is an exciting and important collaboration for Akrapovič, and it is one that we are all eager to be involved with to see what we can achieve as this collaboration grows and strengthens".